Rio+20 in the press
Subscribe to posts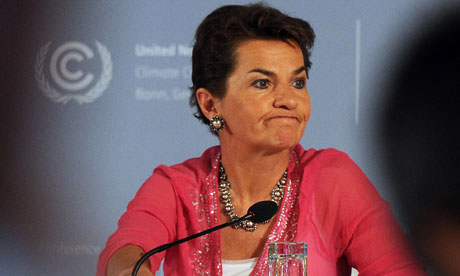 Christiana Figueres, Executive Secretary of the UN Framework Convention on Climate Change (UNFCCC), gives a press conference on May 25, 2012, at the end of a UN climate conference in Bonn, western Germany. Photograph: Hennin
g Kaiser/AFP/Getty Images
The latest round of international climate change talks finished on Friday in discord and disappointment, with some participants concerned that important progress made last year was being unpicked.
At the talks, countries were supposed to set out a workplan on negotiations that should result in a new global climate treaty, to be drafted by the end of 2015 and to come into force in 2020. But participants told the Guardian they were downbeat, disappointed and frustrated that the decision to work on a new treaty – reached after marathon late-running talks last December in Durban – was being questioned.
China and India, both rapidly growing economies with an increasing share of global emissions, have tried to delay talks on such a treaty. Instead of a workplan for the next three years to achieve the objective of a new pact, governments have only managed to draw up a partial agenda. "It's incredibly frustrating to have achieved so little," said one developed country participant. "We're stepping backwards, not forwards."
Connie Hedegaard, the EU climate chief, said: "The world cannot afford that a few want to backtrack from what was agreed in Durban only five months ago. Durban was – and is – a delicately balanced package where all elements must be delivered at the same pace. It is not a pick and choose menu. It is very worrisome that attempts to backtrack have been so obvious and time-consuming in the Bonn talks over the last two weeks."
There was also little progress on the key issue of the financing by rich countries of actions in the developing world. Meeting in Bonn, negotiators and officials from around the world haggled over the set-up of a 'Green Climate Fund' that would channel cash from the developed world to poorer countries, to help them cut greenhouse gas emissions and cope with the effects of climate change.
However, they agreed much of the detail that will be needed to extend the Kyoto protocol – currently the world's only legally binding treaty on emissions cuts – beyond 2012 when its current provisions expire. That extension should be finalised at a conference in Doha, Qatar, this November – but may not be if the EU does not see sufficient progress in negotiations on the proposed new post-2020 treaty.
Chrisiana Figueres, the top climate change official at the United Nations, who presided over the two weeks of talks, said: "Work at this session has been productive. Countries can now press on to ensure elements are in place to adopt the Doha amendment to the Kyoto protocol. I am pleased to say that the Bonn meeting produced more clarity on the protocols's technical and legal details and options to enable a smooth transition between the two commitment periods of the protocol."
However, the only major developed countries that have agreed to continue the Kyoto protocol are those of the European Union. Canada and Japan have dropped out, and the US never ratified the 1997 accord.
The fortnight-long talks in Bonn followed an unexpected last-ditch agreement in December at a meeting in Durban, when countries resolved to spend the next three to four years thrashing out the terms of a new global treaty on climate change and emissions cuts, which would come into force from 2020. Such a treaty would follow on from the Kyoto protocol and from the Copenhagen pledges made at a 2009 summit, in which both developed and developing countries agreed for the first time jointly to curb emissions by 2020. Those pledges do not have the legal force of a full treaty, however, and have been shown in a variety of studies to be inadequate to stave off dangerous levels of climate change.
One of the main tasks for the fortnight-long meeting in Bonn was to flesh out a programme of work towards a new post-2020 treaty. That has been partially achieved, but participants said more needed to be done to draft a clear negotiating timetable. The last major international treaty on the climate that had full legal force - the Kyoto protocol - took five years to negotiate, so the current round of talks will be on a tight deadline if they are to finish in a fully drafted agreement by the end of 2015, as planned.
Countries also discussed at Bonn whether they should try to cut emissions faster than currently planned within the next eight years. That question will be discussed further in the November talks. Green groups were pleased that the possibility of strengthening the 2020 targets was still on the table. However, some participants worried that it could prove a distraction to the difficult task of crafting a whole new post-2020 treaty by 2015.
Celine Charveriat, advocacy and campaigns director at Oxfam, said: "No progress was made to deliver the financial support that the world's poorest and most vulnerable need to deal with the growing impacts of climate change. It is now vital that, at the next UN climate summit in Qatar in November, rich countries commit to an initial US$10-15bn to the Green Climate Fund between 2013 and 2015, as part of a broader financial package.
"At a time when ambitious emission reductions are more urgent than ever, developed countries in Bonn made no progress to close the gap between current climate targets and what is required to avoid the worst of climate change. Developed countries must improve on their current low level of ambition and accept higher reduction targets no later than at the Qatar summit."
Tove Maria Ryding, coordinator for climate policy at Greenpeace International, said: "Here in Bonn we've clearly seen that the climate crisis is not caused by lack of options and solutions, but lack of political action. It's absurd to watch governments sit and point fingers and fight like little kids while the scientists explain about the terrifying impacts of climate change and the fact that we have all the technology we need to solve the problem while creating new green jobs."
A quelques semaines de la tenue du sommet de la Terre à Rio, les collectivités locales françaises et leurs associations se sont réunies le temps d'un séminaire.
Nicole Bricq a applaudi l'implication des acteurs locaux dans la préparation du sommet, assurant qu'elles ont "une influence sur le processus de négociation". Elles ne seront pas "des figurantes
"J'ai la conviction que rien ne sera possible en matière de développement durable sans une implication active de tous les 
acteurs locaux
", a rappelé 
Nicole Bricq 
dans son discours de clôt
Les collectivités locales et leurs associations s'étaient réunies mercredi 23 mai. Objectifs : valoriser les actions menées depuis 20 ans dans les territoires et porter des
messages convergents
à l'adresse des chefs d'Etats et des instances internationales.


"Je salue l'ensemble des engagements contenus dans la déclaration conjointe que vous m'avez remise. Du côté de ce gouvernement,
vous pouvez être sûrs que vos demandes en matière de développement durable seront prises en compte
", a déclaré la ministre.
Lire le discours complet >
>
Les collectivités locales françaises : un engagement fort pour le développement durable
193 Etats membres des Nations unies se rendront à Rio de Janeiro au mois de juin, pour le cinquième sommet de la Terre. Parmi eux, plus d'une centaine d'élus locauxfrançais feront le déplacement pour témoigner de leur expérience et apporter leur expertise.

Depuis la conférence de Rio de 1992, les collectivités ont fait la preuve de leur capacité d'action dans la mise en œuvre du développement durable. Elles maîtrisent aujourd'hui de nombreux outils pour assurer un développement durable de leurs territoires :

Les Agendas 21 locaux, programme d'actions pour le 21e siècle orienté vers le développement durable. La Déclaration de Rio de 1992 mettait en avant, dans son article 28, le rôle essentiel qui revient aux territoires et aux collectivités locales en matière de développement durable. C'est ainsi qu'à chaque niveau de collectivité, revient la responsabilité d'élaborer, pour son territoire, et de mettre en œuvre, un programme d'action répondant aux principes de l'Agenda 21. 

Les Schémas régionaux Climat Air Énergie qui déclinent une partie du contenu de la législation européenne en matière de climat et d'énergie en définissant, en concertation avec les acteurs des territoires concernés, des objectifs quantitatifs et qualitatifs à l'échelle de chaque région.

La Trame verte et bleue qui vise à (re)constituer un réseau écologique cohérent pour permettre aux espèces animales et végétales, de circuler, de s'alimenter, de se reproduire, de se reposer... En d'autres termes, d'assurer leur survie, et permettre aux écosystèmes de continuer à rendre à l'homme les mêmes services.

Les Schémas régionaux de cohérence écologique qui visent la protection de certaines ressources naturelles (biodiversité, réseau écologique, habitats naturels) et l'atteinte ou la préservation d'un bon état écologique de l'eau.

Les Plans climats énergie territoriaux qui visent à aider les collectivités territoriales à organiser la gestion des ressources énergétiques de manière plus rationnelle, plus économe et plus respectueuse de l'environnement. Il vise dans le même temps, à limiter leurs contributions à l'effet de serre, tout en développant une stratégie d'adaptation aux changements climatiques. Toute collectivité de plus de 50.000 habitants à l'obligation d'adopter un plan climat territorial.
23 mai 2012 (mis à jour le 24 mai 2012) - 
DÉVELOPPEMENT DURABLE
Les messages portés à Rio+20 

Si la dynamique des agendas 21, pour des raisons historiques, s'est d'abord emparée des questions écologiques et environnementales, relever les défis sociaux, des modes de production et de consommation constituent les challenges de nouveaux projets territoriaux.

Ainsi, la question qui est posée aux collectivités est de plus en plus celle de leur montée en responsabilité, notamment pour la préservation des ressources et de l'environnement, de l'exigence d'équité dans la répartition des richesses (revenus, écologiques...), de capacité d'impulsion pour transformer les modes de production et de consommation. Conscientes de leurs responsabilités, elles entendent tenir toute leur place dans l'élaboration et la mise en œuvre des politiques selon les principes du développement durable.
 



NEW YORK - Les négociateurs qui préparent le Sommet sur le développement durable Rio+20 se sont donnés davantage de temps pour boucler leurs discussions en raison de divergences persistantes sur le projet de déclaration finale du sommet, a indiqué samedi l'ONU.

Une nouvelle séance de négociation de cinq jours a été ajoutée, du 29 mai au 2 juin à New York. Les négociateurs se retrouveront à Rio pour une dernière séance préparatoire le 13 juin avant le sommet prévu du 20 au 22 juin.

Les délégués se sont déclarés déçus et frustrés du manque de progrès dans les discussions, a indiqué l'ambassadeur sud-coréen Kim Sook, qui co-préside le Comité préparatoire.

Il a expliqué que les discussions allaient désormais être recentrées à partir d'un projet de texte resserré, préparé par les co-présidents du Comité.

Les négociateurs doivent démontrer clairement aux chefs d'Etat et de gouvernement que la négociation avance et qu'ils doivent être présents à Rio, a-t-il ajouté.

Pour le secrétaire général du sommet Sha Zukang, l'approche choisie jusqu'à présent a fait son temps car le projet de texte sous sa forme actuelle est encore trop long (une centaine de pages) et trop répétitif. Nous sommes très loin du document politique concentré que demandait l'Assemblée générale de l'ONU, a-t-il déploré. L'objectif devrait être d'arriver à Rio avec un texte prêt à 90 pour cent, a-t-il estimé.

Selon le communiqué de l'ONU, les points d'achoppement principaux restent l'économie verte, qui associerait développement économique, lutte contre la pauvreté et respect de l'environnement, et les nouveaux objectifs du développement durable, complémentaires des objectifs du Millénaire de 2000.

Les pays continuent de s'opposer sur ce qui devrait être inclus dans ces objectifs et même sur la manière dont ces objectifs devraient être définis, certains voulant qu'ils soient adoptés lors du sommet alors que d'autres envisagent Rio+20 comme un simple point de départ. Le niveau de contrainte des objectifs est aussi un point de désaccord.

Cette Conférence des Nations unies sur le Développement Durable à Rio regroupera une centaine de chefs d'Etat ou de gouvernement, 20 ans après le Sommet de la terre qui a changé la donne en matière de climat et de biodiversité.
National governments should help, not hinder local action
C40 Chair New York City Mayor Michael R. Bloomberg issued an extensive call to action to the upcoming Rio+20 conference on sustainable development, describing four targeted proposals in a speech delivered to an Organization for Economic Cooperation and Development (OECD) roundtable today.
In Rio, Mayor Bloomberg said today, the C40 will call on organizations such as the UN and the OECD to advance standardization of how cities measure their greenhouse gas emissions. "If you can't measure it, you can't manage it," he said, adding that wide variation between cities in measuring and reporting emissions has caused confusion and inaction on climate change.
He also called on governments of economically advanced nations to provide financial support to city-to-city partnerships that transfer expertise and technology to developing countries. "Today, these emerging cities are at a crossroads," he said of the rapidly growing cities in developing countries. "If they take the wrong path, they will lock into place, for decades to come, wasteful and destructive patterns of construction, transportation, land use and energy generation and consumption." Providing these cities with the tools to build a sustainable urban future is an "investment well-worth making", he argued. 
The Mayor directed another proposal to national governments, calling on them change policies and practices that stymie local action and "to join us in removing the obstacles that may keep us from solving our problems ourselves."
Finally, Mayor Bloomberg called for cities to be granted access to funding mechanisms under the Kyoto Protocol: the Clean Development and the Joint-Implementation mechanisms. "Cities around the world are increasingly demonstrating that they have the desire, the knowledge, and the capacity to make effective use of such assistance," he said, noting the historicpartnership C40 has formed with the World Bank to help finance "green projects" at the city level.
All four proposals -- a consistent approach to tracking emissions; city-to-city partnerships between the developed and developing worlds; removing obstacles to  city-level action; and expanding access to financing –are key to making the world's increasingly urban future a sustainable one. Issued now on behalf of C40 Cities, these proposals will help to shape the Rio+20 agenda, and to seize the historic opportunity that it creates to put the world on the right path, with cities leading the way.
Dans le cadre d'une lettre ouverte, vingt-deux rapporteurs spéciaux et experts indépendants du Conseil des droits de l'homme des Nations Unies ont lancé un appel aux États afin d'incorporer les règles et principes de tous les droits de l'homme ainsi que les mécanismes de responsabilisation face à leur mise en oeuvre dans les résultats de la Conférence Rio+20.
La lettre ouverte, intitulée "Pour atteindre ses objectifs rio+20 doit placer la responsabilité au coeur de ses préoccupations", demande notamment:
"d'inclure des références spécifiques à tous les droits de l'homme, qui sont interdépendants et se renforcent mutuellement, pour compléter les références actuelles au droit à l'alimentation3et au droit à une eau potable sûre et propre"
et
de "définir les indicateurs et les mesures destinés à évaluer la mise en oeuvre des engagements découlant du Sommet de Rio+20 dans le cadre d'un processus inclusif, transparent et participatif entre toutes les parties prenantes intéressées, y compris la société civile."
Les experts indépendants se disent en faveur de la création d'un "Conseil de développement durable" similaire au Conseil des droits de l'homme de l'ONU qui assurerait "le suivi, en se fondant sur des indicateurs reconnus, des avancées relatives aux Objectifs du développement durable grâce à un processus analogue à l'Examen périodique universel mis en place par le Conseil des droits de l'homme" tout en invitant les États "à mettre en place des mécanismes de responsabilité nationale pour veiller au respect des engagements pris à Rio+20" incluant "un élément de surveillance indépendant."
Source: www.socialwatch.org
Lettre ouverte des titulaires de mandat des Procédures spéciales du Conseil des droits de l?Homme 
Closing Remarks by Angel Gurría, OECD Secretary-General, delivered at the 4th OECD Roundtable of Mayors and Ministers

Chicago, March 8th, 2012
(As prepared for delivery)

Ladies and Gentlemen,
A day of intensive discussions is coming to an end. Before I summarise the outcomes, I would like to take this opportunity to thank again Mayor Emanuel and the City of Chicago for your wonderful hospitality; the co-chairs for preparing this roundtable and all the participants, ministers and mayors for their important contributions. I am confident that today's exchanges will help us move closer to our goal of sustainable cities.
The outcome of this Fourth Roundtable of Ministers and Mayors can be summed up in five main points:

1.  Policy Action by central governments is not enough to green our economies.
Regions and Cities can, and must, take a leading role in greening our economies and achieving urban sustainability.

This Roundtable has provided a unique opportunity for city leaders and representatives of national governments, international organisations, businesses and major foundations to define a new partnership in support of urban sustainability, bringing together public and private actors at all levels.

2. Sustainable cities generate prosperity.
Our discussions have shown that addressing sustainability in cities can be a powerful source of economic development, by enhancing productivity, fostering innovation and opening new markets.

Concerted action by cities can therefore generate prosperity and jobs while mitigating environmental risks, making our cities more equitable and resilient.

3. Effective policies require accessible finance.
Effective policies for sustainable cities will depend on a combination of political will, technological capacity and accessible finance.

Cities will have to work hard on "greening" their finances, while leveraging new sources of funding. We have circulated a draft of the Chicago Proposal for 'Financing Sustainable Cities' to guide these efforts.
Let me just highlight the proposal's three broad areas of focus: 
First, getting the national framework right is critical. Changes in urban finance need to be undertaken in tandem with policies aimed at greening national economies. This includes putting a price on carbon by introducing carbon taxes or carbon markets and phasing out fossil fuel subsidies – both in developed and developing countries.
Secondly, much more can be done to make existing sources of urban finance more environmentally sensitive. There is scope for reforming taxes, service fees and inter-governmental grants. There is also room for introducing more sophisticated environmentally targeted instruments, for example congestion charges.
Thirdly, we have a lot to do when it comes to tapping into new sources of finance. It is still too difficult for cities to take advantage of carbon finance programmes like the Clean Development Mechanism or Joint Implementation. It is important that cities and governments work together to make the most of instruments to align private investors' incentives with environmental policy goals.

4. The challenge is global, the solutions are local.
There is no "one-size-fits-all" model for implementing urban sustainability.
Our discussions have shown that strategies differ across cities as they do across countries, according to urban conditions, economic and institutional settings, resource endowments and particular environmental pressure points.

Yet there is still a lot we can – and must – learn from each other. For all the differences in our specific circumstances, we stand to gain a lot by sharing ideas, instruments, technologies, institutions and policies.

5. And, last but not least, policy learning and adjustment will be critical on the long road to a more sustainable future.
Making cities greener and more sustainable is a complex challenge that we will have to tackle over many years. Assessing progress along the way, correcting mistakes and building on success will be crucial.

This Roundtable has underlined the need to develop reliable, timely indicators that will allow cities to measure the tangible impacts of investments and policy interventions – and to adjust their course accordingly.

The Roundtable therefore calls upon the OECD to:
establish benchmarks for monitoring progress in partnership with cities, including the C40 group;
develop recommendations on how to finance sustainable cities; and
present these outcomes at the fifth roundtable of Mayors and Ministers that will take place in 2013 .

Ladies and Gentlemen,
Thank you for your ongoing efforts towards making our cities more sustainable and for your active participation today. This roundtable has been fruitful, full of innovative suggestions and promising outcomes.

We have drawn many key messages, which we will actively disseminate through multilateral channels such as Rio+20 and the G20.

Of course, the road ahead is still long, but I am confident that, if we keep working together, we can make swift progress towards achieving cleaner and more prosperous environments for today's 3.5 billion city dwellers worldwide.
Thank you.
For more information, please visit : http://www.oecd.org/urban/roundtable
"We need sustainable growth from a financial, but also environmental point of view," Barroso said on the opening day of the fifth European summit of regions and cities taking place in Copenhagen on 22-23 March.
To support growth, the Commission president flagged the EU's 2020 strategy and the €1 trillion multi-annual budget for Europe currently being negotiated for the 2014-2020 period. 
"But if we want growth, we need to own it. It is not enough to talk about it, it is for all levels of governance, including regional, to make it work," he said in an apparent reference to the Lisbon Strategy, adopted in 2000 and which notoriously failed to turn the EU into the world's most competitive region by 2010.
European cities set the example
But economic growth is not everything, Barroso suggested. Quality of life is also important and Europe's cities are ahead compared to other parts of the world. "We should be proud of this. The Chinese want to learn from us," Barroso said, referring to the recently launched EU-China partnership for sustainable urbanisation. 
In July, Chinese officials will come for a two-week training trip to Brussels on regional policy legislation and multi-level governance. Also, on 19-20 April, the Committee of the Regions will host a panel debate on green urbanisation called "The EU and China - Partners for a Green World".
Barroso said that cities are important in green growth, because political discussion, including on the EU's next 2014-2020 budget, should also take place at local level.
"This is critical for the results of the discussions. The word citizen comes from city," he remarked, calling for local authorities to play a greater role in the budget negotiation. The next EU budget should be conceived like a pot of money for targeted investment, Barroso added, saying that "a cohesion policy with an urban agenda is taking shape".
Mercedes Bresso, president of the Committee of the Regions, said cities have a crucial role to play in the current economic crisis. "The transition to a green economy will require appropriate funding and EU policies and the development of innovative financial systems involving local partners, banks, private companies and civil society," Bresso said.
Hungarian MEP Zita Gurmai, in charge of the European Citizens' Initiative together with MEP Alain Lamassoure, said that current discussions were lacking the concept of solidarity. Citizens should be involved in the urban development and ongoing budget negotiations, through short, medium and long-term planning, Gurmai said.
"There is a growing gap amongst our citizens, we have to do more to address it, for example through the European Citizens Initiative… But do citizens know about it?," Gurmai said.
"Cities have to be at the table as equal partners," added Burkhard Jung, mayor of the German city Leipzig.
'Green' investment
Green growth was the running theme throughout the first day of the summit. Frank Jensen, mayor of Copenhagen and president of the Eurocities network, said there was no contradiction between high quality of life and economic success. "High quality of life helps us to secure investments in our regions."
Copenhagen aims to become carbon-free by 2050 and Jensen has the recipe for getting there. "Investments are an opportunity to design a more sustainable, energy-efficient society," he said, adding that "this should be done in other parts of the world, too."
Copenhagen, he said, was taking a full-picture approach to urban development. "Think about the potential – saving energy will create jobs. Sustainability is no longer a choice, it is a must, so let's get to work."
Selon une étude du ministère de l'Ecologie, les jours de canicule pourraient doubler, voire quadrupler, sur la période 2021-2050, dans le quart sud-ouest de la France, et les jours de neige diminuer de moitié sur le Massif central. Collectivités et entreprises sont invitées à s'adapter.
Combien de jours de canicule les Bretons devront-ils supporter d'ici à 2050 ? Combien de jours de neige en moins, et donc d'occasions de ski en moins, faut-il redouter dans les stations auvergnates ? Quelle sera la durée des épisodes de sécheresse dans le Sud-Ouest ? Autant de questions qui ne resteront plus sans réponses. Le ministère de l'Ecologie vient de mettre en ligne sur son site Internet (1) le résultat d'un impressionnant travail de recherche scientifique permettant d'apprécier localement le réchauffement climatique.
Le « zoom » est plutôt précis : les projections climatiques par région basées sur les travaux du GIEC (Groupe d'experts intergouvernemental sur l'évolution du climat) ont une résolution de 8 km sur la France métropolitaine. Les deux rapports publiés par l'Onerc (Observatoire national sur les effets du réchauffement climatique) proposent trois scénarios de réchauffement : hausse de 1,4 à 1,9 degré des températures d'ici à la fin du siècle pour le plus optimiste, de 2,2 à 2,7 degrés pour le plus mitigé et de 2,9 à 3,5 degrés pour la vision plus pessimiste.
Si cette dernière se vérifie, le Massif central aura pratiquement perdu tout son manteau blanc en 2100. Sur la seule période 2012-2050, plus proche de nous, le nombre de jours de neige aura fondu de moitié. A la même échéance, la période caniculaire dans le Sud-Ouest va passer de 8 à 32 jours ! La sécheresse va s'y intensifier, ainsi que dans le Sud-Est, mais de façon moins homogène. « Dans le Nord-Est, où l'on ne connaît pas ce phénomène, certains territoires vont se trouver en situation critique », signale un expert du ministère de l'Ecologie. Cette montée du mercure ne sera évidemment pas sans conséquences. Avec les épisodes de sécheresse prolongée, les sols argileux vont bouger, fragilisant les fondations des maisons. Un phénomène déjà observé dans le centre de la France lors de la grande canicule de 2003. En montagne, la pluie qui supplantera la neige va modifier le régime des cours d'eau et il sera plus difficile d'irriguer dans certaines régions. L'agriculture n'est pas le seul secteur concerné. La hausse du niveau de la mer de 18 à 59 centimètres d'ici à la fin de ce siècle, s'annonce problématique pour certaines cités portuaires. Une situation à laquelle la ville de Saint-Malo est exposée.
Des normes à réviser
Les rapports dévoilés par le ministère de l'Ecologie vont lui permettre, ainsi qu'à toutes les collectivités locales et toutes les entreprises qui le souhaitent de prendre la mesure des efforts à réaliser pour préserver leur patrimoine et leurs activités. La publication de cette masse d'informations s'inscrit en effet dans le droit-fil du Plan national d'adaptation au changement climatique, présenté en juillet dernier, en application du Grenelle de l'environnement. Ce plan fixe un certain nombre d'orientations à prendre. Certaines normes, concernant les infrastructures de transports notamment, devront être révisées. S'il gèle moins fréquemment et moins intensément en Alsace, les revêtements routiers devront évoluer.
Cette obligation d'anticiper incombe aux conseils régionaux et aux préfets de régions, lesquels ont jusqu'au 30 juin prochain pour boucler leur schéma « climat, air, énergie ». Fin 2012, viendra le tour des villes. Pus précisément, les agglomérations de plus de 50.000 habitants, qui sont tenues d'élaborer des plans d'adaptation.
JOËL COSSARDEAUX
(Reuters) - A future on Earth of more extreme weather and rising seas will require better planning for natural disasters to save lives and limit deepening economic losses, the United Nations said on Wednesday in a major report on the effects of climate change.
The U.N. climate panel said all nations will be vulnerable to the expected increase in heat waves, more intense rains and floods and a probable rise in the intensity of droughts.
Aimed largely at policymakers, the report by the Intergovernmental Panel on Climate Change makes clear nations need to act now, because increasingly extreme weather is already a trend.
The need for action has become more acute as a growing human population puts more people and more assets in the path of disaster, raising economic risk, the report said. The report's title made the point: "Managing the risks of extreme events and disasters to advance climate change adaptation."
Asia was most vulnerable to potential disasters, with East Asia and the Pacific facing the highest adaptation costs.
The 594-page report, with authors from 62 countries, is the world body's most up-to-date assessment of climate change risks. Its general message is that enough is known about these risks for policymakers to start making decisions about how to deal with them.
It follows the release of the report's executive summary in November after an extensive review by scientists and government officials and is based on the work of thousands of scientific studies.
"Few countries appear to have adopted a comprehensive approach - for example, by addressing projected changes in exposure, vulnerability, and extremes," the report said. Building this into national development planning is crucial.
Global reinsurer Munich Re says that since 1980, weather-related disasters worldwide have more than tripled.
Lindene Patton, chief climate product officer for Zurich Financial Services, said the report was particularly useful for insurers who rely on its scientific assessments "to assist our customers to live and work successfully in the natural world."
But the report sidestepped the politically divisive issue of tougher action on curbing greenhouse gas emissions blamed for stoking global warming. U.N. climate talks have become bogged down over who should take most responsibility for action.
Instead, it aimed to push adaptation to a warmer world, offering a range of strategies.
Chris Field, a lead editor of the document, acknowledged this is a change from previous IPCC reports, which largely focused on plans to mitigate climate change by limiting heat-trapping greenhouse gas emissions.
In part, Field said in a telephone interview, this is because the world's governments asked the scientists to see what could be done in the next few decades.
"BAKED INTO THE SYSTEM"
"That's a time frame where most of the climate change that will occur is already baked into the system and where even aggressive climate policies in the short term are not going to have their full effects," said Field, director of the Carnegie Institution's department of global ecology.
But the head of the U.N. panel, Rajendra Pachauri, stressed at a briefing that climate-warming emissions must be curbed: "Whatever we do, we have to adapt, of course, but also at a global level, we need to mitigate the emissions of greenhouse gases so that we ensure that these thresholds or tipping points are not exceeded."
The report looks for "low regrets" strategies that not only protect those in the path of natural disasters but also boost sustainable development. These include early warning systems, better drainage, preserving ecosystems such as mangroves, forests and water catchments, plus better building standards and overhauling health systems.
Spreading financial risk of disasters was another tool to limit the already-strained cash reserves of many poorer nations.
Micro-insurance, catastrophe bonds, national and regional risk pools could help to financerebuilding and recovery. While take-up rates for insurance were increasing in poorer nations, the rate was still low compared with wealthier states.
Remittances, officially estimated at $325 billion in 2010, were another crucial form of finance and risk sharing, but more steps are needed to cut transaction costs.
Insurance groups said the report confirmed their experience of rising costs from climate-related disasters.
"U.S. property and casualty insurers, who are on the front line on this issue, saw catastrophe-related losses double in '11, while their net income was cut in half," Cynthia McHale, insurance program director at Ceres, an investor coalition, said in a statement.
Mark Way, head of sustainability Americas at re-insurer Swiss Re, called the report "yet another reminder of the pressing need to tackle climate risk in both the near and long term."
Nations need to do a better job in assessing people and places vulnerable to climate disasters, such as mega cities expanding further into flood plains or along low-lying coasts. Key was treating the causes, not the symptoms of vulnerability.
Risks also vary widely, from the threat of more droughts and wildfires in Australia and melting permafrost damaging buildings and roads in the Arctic to heat waves in southern Europe.
The report also said some populations are already living on the edge, given the projected increases in the magnitude or frequency of some extreme events in many regions.
"Small increases in climate extremes above thresholds or regional infrastructure 'tipping points' have the potential to result in large increases in damages to all forms of existing infrastructure nationally and to increase disaster risks," it said.
Most deaths from natural disasters - 95 percent between 1970 and 2008 - still occur in developing countries, the report found.
It said current spending on adaptation projects in developing countries is about $1 billion per year, a fraction of the estimated range of $70 billion to $165 billion per year on technologies to curb greenhouse gas pollution.
Yet losses from disasters were substantially higher for developing nations, with middle-income countries suffering losses of 1 percent of GDP between 2001 and 2006, compared with 0.1 percent for high-income countries.
The report's release dovetailed with an unprecedented March heat wave in the continental United States and a London conference where scientists warned the world was nearing tipping points that would make the planet irreversibly hotter.
(Reporting By David Fogarty and Deborah Zabarenko; Editing by Philip Barbara)
Wed Mar 28, 2012 12:42pm EDT